Finding the perfect engagement ring… Trilogies
Right, now we are getting serious with the 'add ons' to the central stone. Last week we looked at upgrading the look a bit by going from a pure solitaire to more or less a solitaire with dressed up shoulders. Now it's time for some trio rivalry!
Here is the trio of trilogies we offer: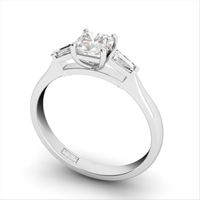 Starting as usual with the most discreet of the three is the Aurora Round.
With its central stone set in four claws and two lovely little tapered diamonds leading off it, you have a trilogy but where the central stone really is still the main one.
Great to get some interesting diamond cuts in an engagement ring though and so the tapered stones are really a lovely feature.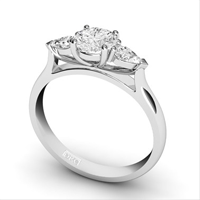 Next is the Fleur. Appropriately named so since the the design really does make you think of a Lotus type flower opening up.
The two gorgeous pear cut diamonds on either side of the central brilliant cut plus the metal structure on which the three stones sit really make this piece quite unique overall.
It has a very sophisticated look in the red gold too.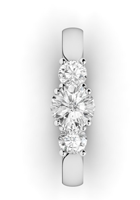 Finally, the Jolie Ahhh, a beautiful classic trilogy.
Three stones, three brilliant cuts and they come together with such harmony thanks to those great claws.
Just look at the profile image! There is something very 'natural twine'like about the way the long claws stretch across the top of the ring to form the setting.
This is the one you can't go wrong with!
What can I say, I'm biased, I myself have a trilogy and I never tire of the beauty of my three stones! So much nicer than just one…
If you like the style and can afford it that is. But as always at the Diamond Ring Company, we have such an amazing selection of stones and the trilogies can be set with a variety of sizes that budget actually is not the biggest consideration…
Simply your preference.