WEDDING RINGS HATTON GARDEN (LONDON)
WEDDING RINGS HATTON GARDEN (LONDON)
Popular Diamond Weddings Rings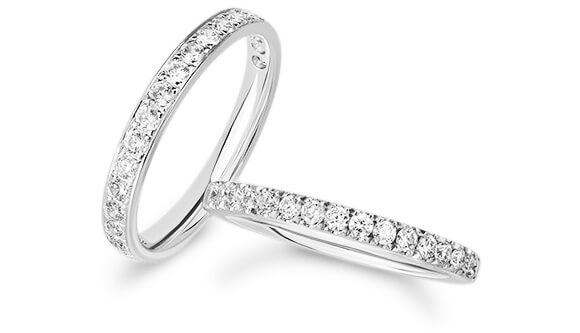 Looking for a Diamond Set Wedding bands in Hatton Garden
More and more people are opting to have diamonds in their wedding bands. Why should diamonds be limited to just the engagement ring? Add some sparkle with a diamond set wedding ring.
Whether it's one or two set within a band, or a ring encrusted with channel-set diamonds, we have the perfect statement for your special day and a lifetime of love. Your diamond wedding ring set will be a daily reminder of the love you share, which is precisely why you should trust us to create it for you. Why not visit our Hatton Garden showroom if you are looking for wedding rings in London.
Classic White Gold & Platinum Wedding Bands in Hatton Garden
We offer a fantastic range of diamond products, but appreciate the simplicity of the classic wedding band. We have court men's wedding rings that are chunky and solid, as well as the perfect lady's wedding band.
Buy these together to make an unforgettable wedding ring set. Choose from Court, Flat, D-Shape or Flat Court shapes. White gold wedding rings are particularly popular, and we also have yellow gold and platinum options.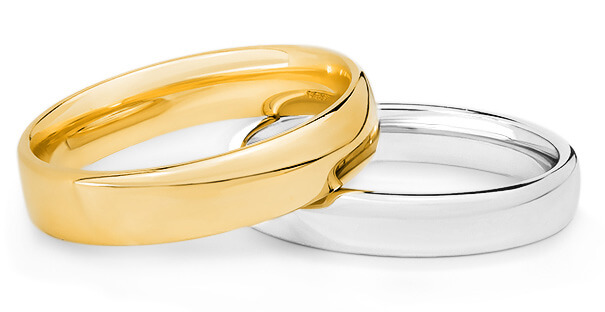 Why shop for Wedding Rings in Londons famous Hatton Garden
If you're in London and you're shopping for wedding bands, we all know the go-to spot is Londons famous Hatton Garden, which is why we are also in Hatton Garden. However, shopping for wedding bands in Hatton Garden can be challenging at times due to the volume of wedding ring styles on offer whilst trying to ring you will wear for a lifetime that has been crafted to the highest quality standards.
When it comes to plain or classic wedding bands, it can be difficult to tell the difference between them. This is why it's important to choose a trusted jeweller when shopping for a wedding band. A reputable jeweller will be able to guide you through the process and help you find the perfect ring that meets your needs and budget.
On the other hand, diamond set wedding bands offer a bit more variety in terms of carat weight or design. When shopping for diamond set wedding bands, it's important to keep in mind that the more diamonds a band has, the higher its carat weight and the overall cost may be. Although this sound great, there are a few variables to be mindful of. If you set your wedding band with diamonds all the way around the band, not only will you be paying more for diamonds that you can not see (due to the diamond on the bottom of the band facing the inside of your palm), but you may also face some difficulty if you need to resize the ring at a later stage. This is why lean towards making diamond wedding bands that have 50% diamond coverage. This saves the customer money, visually the ring looks the same and it allows for multiple adjustments if needed.
Despite the overwhelming nature of shopping for wedding bands, The Diamond Ring Company has a reputation for providing exceptional service and quality, making it an excellent choice for couples looking to tie the knot. With a wide selection of wedding bands to choose from, you're sure to find something that suits your style and budget.
We also make our diamond wedding rings and wedding bands in a range of metals. We offer 18ct White Gold Wedding Rings, 9ct White Gold, 18ct Yellow Gold Wedding Rings, 9ct Yellow Gold Wedding Rings, 18ct Rose Gold Wedding Rings, 9ct Rose Gold wedding bands, and Platinum Wedding bands.
Thinking about a diamond wedding band?
For diamond set wedding bands, we advocate for 50% diamond coverage. This not only provides visual appeal but also allows for practical considerations, such as potential resizing. Our commitment to quality and customer satisfaction makes The Diamond Ring Company the preferred choice for couples embarking on the journey of a lifetime.
When it comes to plain or classic wedding bands, the expertise of a trusted jeweller is invaluable. Our team is committed to guiding you through the process and helping you find the perfect ring that aligns with your preferences and budget.
Our Bespoke Wedding Bands are Made to Order!
At The Diamond Ring Company, we take pride in offering a bespoke experience for your wedding band selection. Our commitment to creating a symbol as unique as your love is reflected in our made-to-order process. Each wedding band is crafted with precision and passion, ensuring that it aligns seamlessly with your individual preferences and style. From the selection of metals to the placement of diamonds, every detail is thoughtfully considered. This personalized approach allows us to bring your vision to life, resulting in a wedding band that not only celebrates your commitment but also tells a story that is exclusively yours. Embrace the beauty of craftsmanship with a wedding band that goes beyond the ordinary, tailored specifically for your extraordinary journey together.
A stunning ring made with class!
I am so happy with my ring! After my bad experience with another ring company, the ring that Michael made me is great quality, solid and a beautifully made ring. I would highly recommend this company. Their customer service is great and their rings are quality. I'll be back for my wedding band soon.
Eloise Hanna Neeranjan 
Why You Should Buy Your Wedding Band or Diamond Wedding Rings From Us
Our experience has been accrued over 40 years of jewellery making. That expertise goes into making wedding rings that befit the occasion. We create handmade wedding rings in Hatton Garden to suit all tastes, from modern to traditional. They are built to last, with quality being of paramount importance to us. For that reason we have a no-quibble money back guarantee as well as a try before you buy service.
You can be assured of the best value diamonds as we source ours direct.
You are cordially invited to visit our Hatton Gardens showrooms, in the heart of London's world famous jewellery centre.
We have each of our diamonds individually assessed and certified by independent institutes IGI and GIA.
As we are so confident in our products, we offer a money back guarantee, with no questions asked, on returns within 30 days.
We ensure that every step of your decision making process is made easy through our personal customer service. We want you to be happy with everything; nothing is too much, so please ask for advice.