The perfect diamond engagement ring... Diamond Shoulders
Posted on June 10, 2013 by The Diamond Ring Company There have been 0 comments
The perfect diamond engagement ring.... Diamond Shoulders
Having gone through the top picks of classic and not quite so classic solitaires, it's time to move on to something a bit more eye catching. Not that a huge diamond in a simple solitaire isn't but see below and you'll get what I mean...
It's all about the shoulders today and the greater attention to the overall structure of the rings. So, starting with the least elaborate..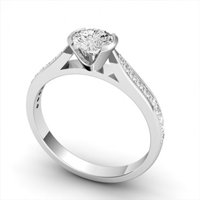 The Medee Round...
This is a well thought out mix of strong 'structure', plus more diamond details in the ring overall but where the result is still quite simple. I love the strong look from the v-like clamp hold on the diamond, created by the two half rubover claws...
On the side of which the diamond channel set shoulders come to a point. If you wanted a rubover setting with some really interesting details, this is the one for you.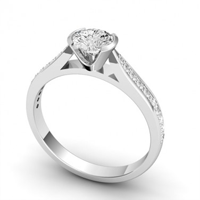 Next up on the elaborate scale..
As you can see, this is largely because of the split shoulder where both parts are diamond set, on either side of the central diamond.
As with the above however, if you want a traditional four claw set solitaire diamond engagement ring, but with a little more glamour and shine to it, then this one is yours.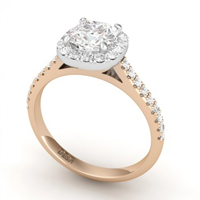 Finally, the Cateline.
What a beauty! My favourite. You would not be mistaken for thinking that this piece could come from any number of the large design houses. Especially beautiful, elegant and expensive looking in its red gold variant while quite 'rich American' style in the white gold...
the diamond detailing both around the central stone and on the shoulders make this a wonderful choice for the lady who doesn't just want a classic engagement ring, but to also be wearing a piece of 'fine jewellery' every day...
Quite a nice 'right hand ring option' too therefore if you ask me...
This post was posted in Blog