Custom Engagement Rings in Hatton Garden
Custom Made Diamond Rings
Choosing the right engagement ring is never easy. Not only does it need to be beautiful, but it must also be in line with the personal style and tastes of the recipient. Many people also want their chosen engagement ring to represent their relationship and showcase their personality. Getting all of this right can be tricky, which is why a custom ring is a fantastic choice.
Make your proposal utterly unique with a bespoke engagement ring. Nobody else will own a ring exactly like the one you commissioned, and the recipient is bound to be especially touched by the thought and effort that went into the design and production of their unique engagement ring.
Creating Your Own Custom Engagement Ring When in Hatton Garden
At The Diamond Ring Company, we specialise in producing beautiful, high-quality custom engagement rings in Hatton Garden. We have a wide range of engagement rings in stock to which we can make minor bespoke adjustments, or you can have a unique ring made up based on your exacting specifications. You could even sketch your design out for us - there's no need to be much of an artist - and allow us to transform it into a professional design which our goldsmiths will then craft into a beautiful ring. Our engagement rings are around 70% cheaper than those you'll find on the high street, and we have a wide variety of high quality certified diamonds and gemstones in stock.

View a 3D model of your Custom Engagement Ring before committing
View our design gallery for examples of custom pieces we have created for our clients.
Our design process gives you complete control when you order your custom engagement ring online. First, we will talk over your design concept with you to provide you with a quotation. Then, we create a computer-aided design (CAD) model of your bespoke ring. You can view multi-angle 3D renderings of the ring before committing to your order to make sure that you are completely happy with the design. If you'd like some changes to be made at this stage, we're happy to amend the design according to your feedback before our experienced goldsmiths get to work on your ring.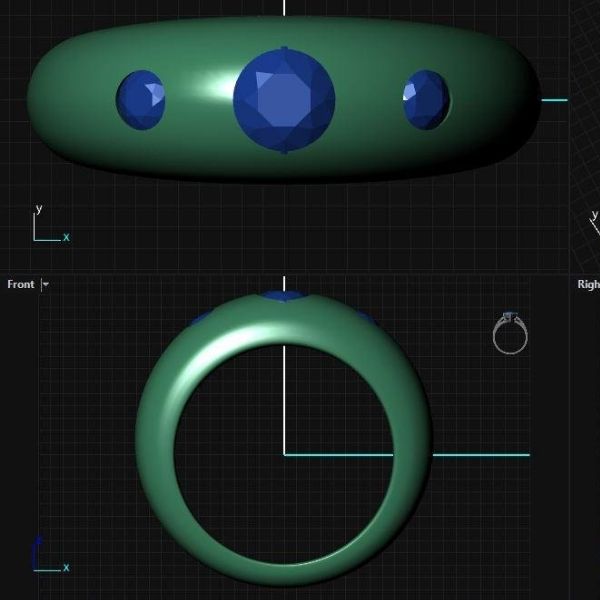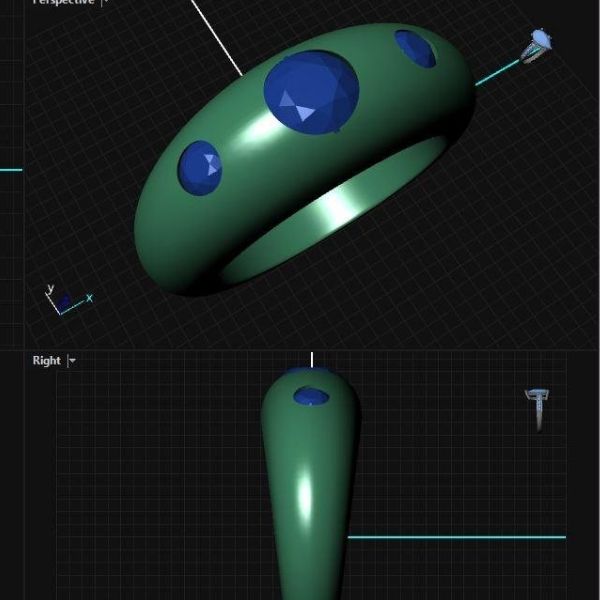 Try a wax version in-store before your ring is crafted
If you can make it into our Hatton Garden store, we can show you a wax version of the ring before committing to your order. This can give you an even better idea of how the finished ring is set to look. For couples picking out a bespoke engagement ring together, this is a great way to check that the sizing of the ring is perfect before we get to work on it. Again, we're happy to make some tweaks to the design at this stage should you want them.
Contact us to begin your Custom engagement ring design
To order your custom engagement ring online, you can complete our enquiry form with information about your design concept. Alternatively, give us a call to discuss your design over the phone or arrange a consultation at our Hatton Garden premises.
We also offer this service for diamond pendants and other items. All Jewellery will be polished and hallmarked and then dispatched to you if you didn't want to pop in to try on in store first. So why not contact our showroom on 020 7404 6616 to find out how you can bring your own creation to life.
Terms and conditions: Due to fluctuating market prices, quotes are valid for 10 business days only. Custom items are non-refundable and non-exchangeable. This does not affect your statutory rights. The Diamond Ring Company does not set gemstones from outside sources. Prices for Custom designs start at £1,000.