Hidden Halo Engagement Rings
Hatton Garden

Hidden Halo Engagement Rings in Hatton Garden

Popular Hidden Halo Engagement Rings
What is a Hidden Halo Engagement Ring

While a classic solitaire remains a popular and timeless choice, we are selling more diamond halo engagement rings in Hatton Garden than ever before. Why are they so popular? For starters, they look stunning.
As one of the go-to jewellers for halo engagement rings in London, we know that people love them for their impressive size and abundant sparkle. There are lots of hidden halo engagement rings in Hatton Garden to choose from. However, you do need to ensure that the highest quality of the hidden halo is crafted in order for it to become a beautiful sparkling and visible feature that will last a lifetime.
Quite simply, whether your style is traditional or contemporary, diamond halo engagement rings are a bold, luxurious statement.
We understand the frustration of buying something and then discovering it's 'hidden costs'. Therefore we offer a transparent pricing policy on all diamond rings, wedding rings, earrings and pendants. What you see is what you pay. We also offer free UK delivery on any item so no extra costs will be added when you suddenly hit the checkout!
What's the Difference Between a Traditional Diamond Halo and a Hidden Halo?
The main difference between a traditional diamond halo and a hidden halo lies in the visibility of the surrounding diamonds. A traditional halo setting prominently displays the smaller diamonds encircling the centre stone, enhancing its size and adding a glamorous touch. In contrast, a hidden halo setting strategically places the smaller diamonds under the centre stone, maintaining a sleek and streamlined appearance while offering a hidden layer of brilliance. Take a look at the two images below to see a difference between the diamond hidden halo from the birds eye view and the difference between the diamond hidden halo from the side profile.
Top Tip: When looking for a halo or hidden halo with a London based jeweller, make sure that they are making the halo around the specific diamond that you are looking to buy. This way, you can maximise the size and quality of your halo whilst ensuring that you create a nice centre diamond to halo ratio


Why You Should Choose a Hidden Halo
There are several reasons why hidden halo diamond engagement rings have become increasingly popular among couples seeking a distinctive and captivating design. Firstly, the hidden halo creates an illusion of a larger centre stone, adding grandeur and elegance to the overall ring. Secondly, the concealed diamonds provide an element of surprise and intrigue, offering a subtle hint of luxury that sets the ring apart from more traditional styles. Lastly, the hidden halo allows for greater versatility in terms of pairing with different wedding bands, making it an ideal choice for personalisation.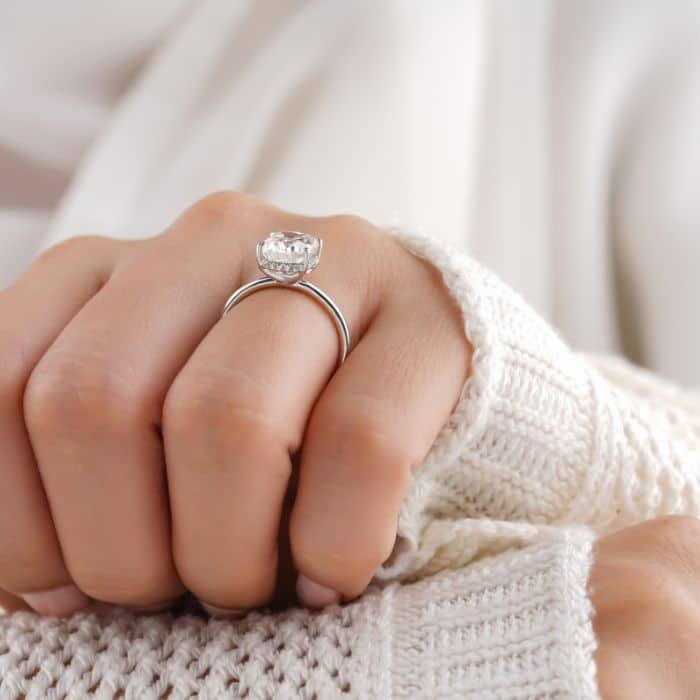 Is a Hidden Halo Right for Me?
Determining whether a hidden halo diamond engagement ring is right for you depends on your personal style, preferences, and consideration of long-term fashion trends. The hidden halo design has gained popularity in recent years, and its unique appeal and elegance make it a viable choice for those seeking a contemporary and sophisticated look. While fashion trends may evolve over time, the hidden halo's timeless charm and versatility suggest that it will remain a sought-after choice for years to come.
For an affordable diamond jeweller you can trust in Hatton Garden, London, visit The Diamond Ring Company.
Are There Any Reasons to Avoid the Hidden Halo?
While hidden halo diamond engagement rings have numerous appealing attributes, it's important to consider potential drawbacks to ensure the right choice for your preferences. One aspect to keep in mind is that the hidden diamonds can be more challenging to clean compared to traditional halo settings. The small crevices beneath the centre stone may require extra attention during maintenance and cleaning routines. Additionally, if you prefer a more prominent display of surrounding diamonds, a traditional halo setting might better suit your taste.
The Origin of the Hidden Halo
The concept of the hidden halo in diamond engagement rings emerged as an innovative design evolution. Jewellers sought to create a modern twist on the classic halo setting, elevating the elegance and allure of traditional designs. The hidden halo design embodies the desire to present a fresh and unique approach to engagement rings while maintaining a touch of tradition and sophistication.
In conclusion, hidden halo diamond engagement rings offer a captivating and alluring alternative to traditional halo settings. With their concealed brilliance and illusion of a larger centre stone, these rings add an element of mystery and elegance. While considering your options, weigh the benefits of hidden halo rings against potential drawbacks and ensure that this style aligns with your personal taste and long-term fashion preferences. Choose a hidden halo diamond engagement ring to symbolise your love in a way that is as enchanting as it is unique.