Sapphire Engagement Rings
Hatton Garden
Sapphire Engagement Rings Hatton Garden
We Make Bespoke Sapphire engagement Rings
How does choosing your sapphire engagement ring work?
Sit down for a free consultation and discuss the designs, personal touches and budget for your sapphire engagement ring. We will then prepare a range of sapphires in our London showroom for you to view and try on in person. We will then create a CAD (computer-aided design) and send the 3D image to you in order for you approe the deisgn or make changes. If the cad is approved, we can then print a wax version of the ring for you to view in person. If no further adjustments are needed we will then make your final piece for you.

View our range of beautiful Sapphire Engagement Rings in our Hatton Garden Showroom
Choosing a Sapphire Engagement Ring in Hatton Garden
An engagement ring is an important investment in your future and a sapphire engagement ring is considered one of the most luxurious pieces available on the market. If you are looking for sapphire engagement rings in London, you can visit our Hatton Garden showrooms and we can show you exactly why sapphire rings are regarded so highly.
The Diamond Ring Company is one of the UK's leading sapphire jewellery retailers and, with our website and showrooms, we have developed a reputation for quality craft and excellent service. We have extensive knowledge of the types of sapphires available to suit any sapphire engagement ring and are available to advise you on any aspects of your sapphire purchase.
We have a team of talented jewellery designers and craftspeople who can offer a bespoke sapphire engagement ring design service to meet your specifications and delight your partner. You can also visit our showroom in Hatton Garden to handle the sapphires and get a feel for their weight, quality and colour, as every sapphire has a unique appearance.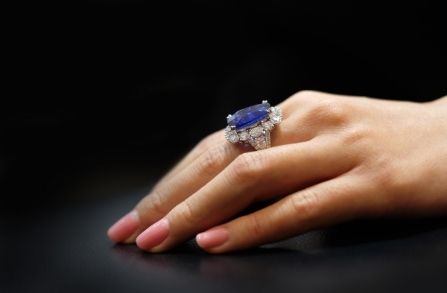 High-quality sapphire engagement rings trusted Hatton Garden Jewellers
Our handcrafted sapphire engagement rings are made from high-grade precious metals sourced from the very best suppliers. When designing your sapphire ring, you can create your own customised version from a selection of several popular styles encompassing classic, traditional and contemporary solitaires, or you can request a bespoke design from our jewellery design team.
If you have a specific ring design idea or you would prefer us to craft something unique, our design team can assist you with the inspiration for your original design. Together, we will work via a CAD (Computer-Aided Design) process, which allows you to review and amend your design before purchase. Once you have approved the design, we will then proceed to the production of your new engagement ring.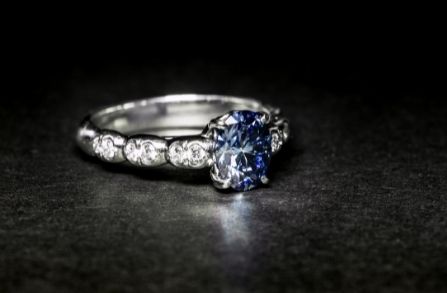 Why Choose a Sapphire Engagement Rings
Whilst traditionally an eye-catching blue, sapphires are also available in green, orange, yellow, purple, grey, black and colourless. Sapphires that show two or more colours are known as 'parti sapphires', with the pinkish-orange variety known as a 'padparadscha'. Sapphires are traditionally given for a 45th anniversary, and a sapphire jubilee occurs after 65 years of marriage. The sapphire is also the birthstone of September. At The Diamond Ring Company, we are not resellers. Instead, we streamline our purchase process and source our gemstones and diamonds direct, so you can get the best possible price for your engagement ring.
Why you should buy your Sapphire Engagement Ring from us
Try before you buy
We are more than an online retailer. We have showrooms located in the heart of London's Hatton Garden and we're open weekdays for viewings of our extensive sapphire and diamond engagement ring collection. If you're not sure which engagement ring or sapphire is best for you, call us to arrange a private appointment and try our jewels before you buy. We also have diamond ruby engagement rings and diamond sapphire engagement rings on offer.
Money-back guarantee
We understand that buying an engagement ring is a life-changing decision. For those worried about any aspect of their purchase, we offer a no quibble, full money-back guarantee if you return the ring within 30 days.
Personal service
We offer an attentive and personal service that caters to the needs of our customers. In fact, our focus on delivering a personal service from the moment you request a design to the final delivery of your engagement ring has led to an 'excellent' five-star rating on Trustpilot from our many satisfied customers.
To learn more about our services, get in touch with our team of experts today.