Yellow Gold Diamond Engagement
Rings In Hatton Garden
Yellow Gold Engagement Rings Hatton Garden
Popular Yellow Gold Engagement Rings
Looking for a Yellow Gold Diamond Engagement Ring in Hatton Garden?
What is yellow gold?
Yellow gold is a precious metal commonly used to make engagement rings. Gold in its purest form has a natural yellowish colour, but it's quite soft and bendable which isn't ideal for jewellery-making. To improve its strength and durability, pure gold is blended with other metals such as silver, zinc, palladium and copper. These additional metals also change the colour of the gold. 'Yellow gold' retains the warm, yellowish hue of natural gold because it is blended with only silver and copper. Many people love the traditional look of yellow gold, particularly when it comes to picking out a classic and timeless engagement ring. Here at The Diamond Ring Company we have a great range of yellow gold engagement rings. In fact, we are bespoke jewellers so we can make any ring you like in any of the golds available.
With over 33 years experience based in Hatton Garden, we pride ourselves in catering to our customer's needs.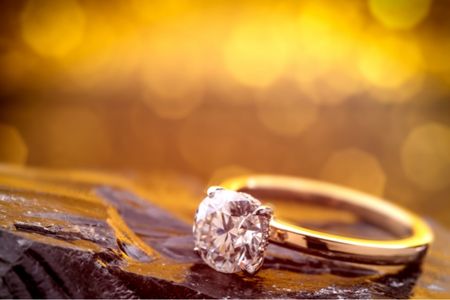 What type of gold is best for an engagement ring?
18k yellow gold is an excellent choice for diamond rings. The high carat gold matches the luxurious, opulent nature of diamonds. However, at 18k the gold remains strong enough to securely hold onto precious jewels and sustain daily wear and tear. Engagement rings are designed to last a lifetime which means they must be classic enough to work over decades of changing trends and styles. Since yellow gold is so timeless, an 18k yellow gold engagement ring is a dependable choice, especially if you are looking for a yellow gold engagement ring in Hatton Garden. Plus, the high proportion of gold provides that inimitable rich yellow hue that contrasts beautifully against bright, shimmering diamonds. If you want the gorgeous diamond jewel to stand out, 18k yellow gold is the perfect choice.
What's the difference between yellow, white and rose gold?
Yellow, white and rose golds all contain different blends of alloy metals, resulting in three unique colours. Rose gold, often known as red gold, blends pure gold with copper to create a delicate pinkish hue. White gold contains white metals such as palladium, manganese and nickel. This gives it a cool, silvery finish. However, white gold always has a slight yellowish tinge which is why it's plated in rhodium to give it a perfectly silver finish. White gold is often confused with platinum, which is another popular precious metal for engagement rings. Platinum is a silvery-white metal that is rarer and more expensive than white gold. Sometimes the rhodium plating can wear off white gold rings over the years, but platinum doesn't pose this risk.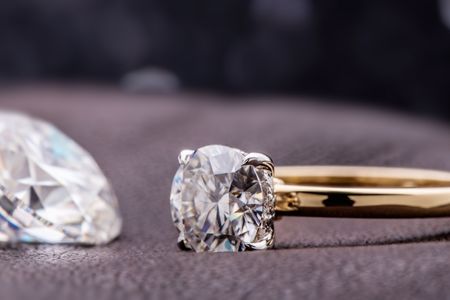 What's the difference between 9k, 14k, 18k and 24k gold?
Carat measurements refer to the amount of pure gold contained in a piece of jewellery. The higher the carat, the higher the proportion of pure gold and the more expensive and luxurious the piece of jewellery is. However, the lower the carat, the stronger and more durable the piece of jewellery is. Carats are on a scale of 24, with 24 carats being 100% pure gold. 9k gold is 37.5% gold, 14k is 58.3% gold, and 18k is 75% pure gold. Since gold is fairly soft in its purest form, 24k is not ideal for setting diamonds. It is far too likely to get bent out of shape and lose its grip on the diamond.
Why you should buy your Cheap Engagement Ring from us when in Hatton Garden
Try before you buy
Try before you buy! Book an appointment at our showroom in Hatton Garden, we have plenty of styles for you to try and will be on hand to offer you the best advice.
We offer a 30 day Money Back guarantee and a safety net for you just in case your partner does not like the ring you propose with.
Our customer is our priority, we are here to help and will give you friendly, transparent service to help you get the best diamond ring for your money. We also have Lab grown diamonds rings, diamond ruby engagement rings and diamond sapphire engagement rings on offer.
Money-back guarantee
We understand that buying an engagement ring is a life-changing decision. For those worried about any aspect of their purchase, we offer a no quibble, full money-back guarantee if you return the ring within 30 days.
Personal service
We offer an attentive and personal service that caters to the needs of our customers. In fact, our focus on delivering a personal service from the moment you request a design to the final delivery of your engagement ring has led to an 'excellent' five-star rating on Trustpilot from our many satisfied customers.
To learn more about our services, get in touch with our team of experts today.