Emerald Cut Diamond
Engagement Rings in
Hatton Garden
Emerald Cut Diamond Rings in
Hatton Garden
Why You should choose a Emerald Cut Diamond

The emerald cut is identified by a long, rectangular body, with chiselled cuts which look like steps from a birds eye view. This means that the diamond has longer facets compared to the other diamond shapes and will often look clearer brighter due to more light, travelling through the diamond. Because of their shape, emerald cut diamonds have a larger surface area and often appear bigger than other diamonds of the same carat weight but cut in a different style.
The emerald cut is one of the oldest in the jewellery trade and is always a popular choice when it comes to diamond rings, particularly engagement rings. Their shape lends them to simpler, more sophisticated settings. An emerald cut solitaire diamond is beautiful for its simplicity, but they also look stunning as the centrepiece of a three-stone setting, flanked by two smaller diamonds.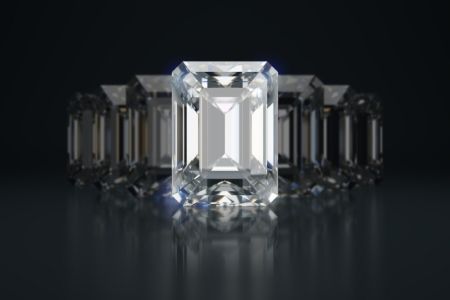 What is an Emerald cut Diamond Engagement Ring?
The emerald cut is one of the most popular cuts when it comes to diamonds and other precious stones, and an emerald cut diamond ring is always a popular choice. When it comes to finding your emerald cut diamond ring, Hatton Garden is the place to go, but how do you know you're getting the best offer, and what should you look for in an emerald cut diamond engagement ring?
We understand the frustration of buying something and then discovering it's 'hidden costs'. Therefore we offer a transparent pricing policy on all diamond rings, wedding rings, earrings and pendants. What you see is what you pay. We also offer free UK delivery on any item so no extra costs will be added when you suddenly hit the checkout!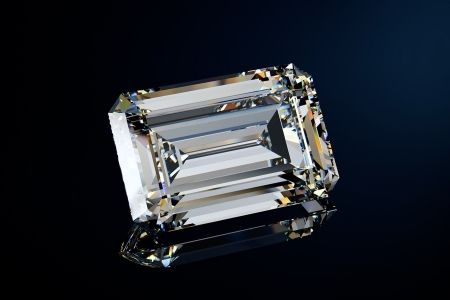 Finding the Right Emerald Cut Engagement Ring in Hatton!
When you're planning to propose, you want to make sure you get it right, and aside from what you say, the ring is the all-important thing. An emerald cut engagement ring is a perfect choice, especially for those who like their jewellery to be timeless, elegant, yet beautifully understated. To find the best emerald cut diamond ring, you should only ever approach a reputable seller.
At The Diamonds Ring Company, we can help you choose and fully customise your emerald cut diamond ring, ensuring you get an engagement ring that is as unique as you and your partner. From traditional settings to something a little quirkier, we're here to ensure you receive the best possible service and get the ring of your dreams. For more information, simply get in touch today.
Finding the Right Emerald Cut Ratio
The emerald cut diamond is mostly recognised as a rectangular shape. The most desirable length to width ratio for an emerald cut diamond is between 1.30 to 1.50. Most people choose a ratio in the 1.3 to 1.4 range.
Many jewellers or sales advisors tell you that the diamond emerald they are showing you is an excellent cut emerald or provide their customers with a cut grade in the same way that you would grade a round brilliant cut. Due to the fact that the oval is subjective in terms of preference, there is no cut grade given from GIA. Some people prefer a more thin elongated shaped emerald, whereas others may prefer a slightly shorter, thicker emerald (similar to an asscher cut diamond).
Take a look at the image below to get an understanding of how they can differ in shapes. The emerald cut on the left is within the more desirable ratio. The emerald cut on the right is closer to a ratio of 1.6.

Why are Emerald Cut Diamonds so popular with celebrities?
Due to the emerald cut diamond shape boasting big parallel facets, the diamond inclusions are much easier to see with the naked eye. Unlike other diamond cuts, the inclusions in an emerald cut diamond can't really be hidden by the brilliance of the sparkle due to the facet arrangement. This means that in order to get a large diamond carat weight, you need to ensure that the clarity is very high.
For an affordable diamond jeweller, you can trust in Hatton Garden, London, visit The Diamond Ring Company.