Ring Resizing Service
in Hatton Garden

Ring Resizing in Hatton Garden

OUR RESIZING SERVICE WILL NOT BE IN OPERATION UNTIL 10/04/2024
Looking to get your engagement ring or wedding ring resized in Hatton Garden by trusted jewellers?
No problem, in order for us to provide you with an accurate quote, please ensure you attach an image of your ring. Please note: We will not be able to quote or resize clusters, damaged rings, soft stones and gemstone rings, rings with engraved writing or patterns.
PLEASE NOTE: WE DO NOT OFFER THIS SERVICE ON WEEKENDS.
Ring Resizing Service in Hatton Garden

Resizing your engagement ring can be an affordable and straightforward process with our Resizing Service. We're professional trusted jewellers with over 1,500 five star reviews, so you can rest assured that your precious item is in safe hands. Our Resizing Service prices are from £70 - £100 including VAT, so you can resize your diamond rings, engagement rings and wedding rings quickly and cost-effectively. With our Resizing Service, you can have your ring back in no time at all, with a perfect fit that's just right for you. Get in touch today to find out more about our Resizing Service. We're here to help! For more information on ring sizes, please click here.
How our ring resizing service works

You visit our showroom in Hatton Garden
We measure your finger size with a range of sample bands
Once we have measured the correct size that you would like your ring to be adjusted to, you leave the ring with us for a couple of days and we will have the ring resized for you upon your return
The cost of the resize will depend on how much of a resizing increase or decrease is needed.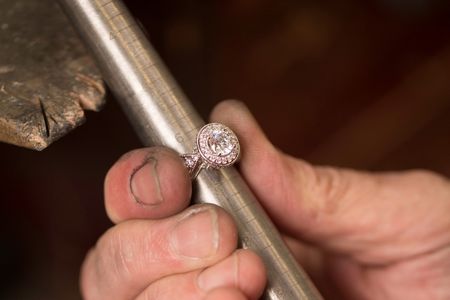 Considerations before resizing your ring
It's also important to bear in mind that ring sizing is not without its challenges. To ensure your resizing process goes as smoothly as possible, we recommend considering the following factors before resizing your ring:
1. Your finger size can be affected by humidity and temperature. If you're planning on getting a Same Day Ring Resize in Hatton Garden, make sure to take this into account when choosing the right size for your ring.
2. Your left and right hands are usually different sizes. For example, the hand you normally use for writing may be larger than the other. Make sure to measure both hands if you want an accurate fit for your ring.
3. We can resize white gold, yellow gold, rose gold and platinum rings. However, we cannot resize rings made of other materials such as silver or tungsten. Please let us know what material your ring is before starting the Same Day Ring Resizing process as we would not want you to come all the way to Hatton Garden only to find you can not take your ring away on the same day.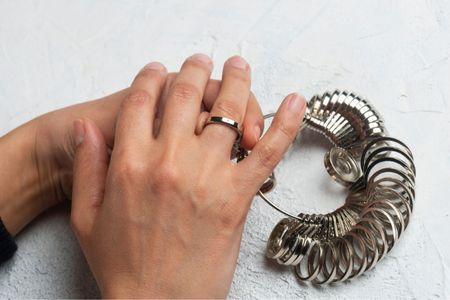 Same day resizing service in London
We do offer a same day ring resizing service and we are committed to providing you with an efficient and professional service. If you are interested in a same day ring service from our London Showroom, we would need at least a days notice. As long as we receive your ring first thing in the morning with notice, we will be able to get your resized ring back to you by the end of the day. We look forward to helping you create the perfect fit!
OUR RESIZING SERVICE WILL NOT BE IN OPERATION UNTIL 10/10/2023
PLEASE NOTE: WE DO NOT OFFER THIS SERVICE ON WEEKENDS.