Jewellery and Ring Polishing and Rhodium Service in Hatton Garden

Jewellery and Ring Polish & Rhodium Service in Hatton Garden

PLEASE NOTE: THIS SERVICE IS ON HOLD UNTIL 10/04/2024

Jewellery & Ring Polishing service in Hatton Garden

Jewellery is an investment that should be cherished for a lifetime. However, over time even the most well-cared-for jewellery can lose its lustre, sparkle, brilliance or shine. That's where our jewellery cleaning and polishing service comes in. Our skilled jewellers will clean and polish your Jewellery, bringing it back to its original brilliance. We offer this service from £50 per item including VAT, but if you've already purchased Jewellery from us, the service is 100% free. So don't hesitate to get in touch and give your Jewellery the love and attention it deserves. Please note the price of the polishing is dependent on the piece and size of the jewellery.
Polish and Rhodium Service in Hatton Garden

Rhodium plating is a process in which a thin layer of rhodium metal is applied to the surface of another metal. Rhodium is a rare, silver-white metal that is highly resistant to corrosion. It is often used as a finishing touch on jewellery and other fine metals. It can also help to extend the life of your jewellery and keep it looking new for longer. Rhodium plating can also help to prevent tarnishing and corrosion. If you are interested in this service, then please read on to find out more.
At The Diamond Ring Company, we offer a professional rhodium plating service that can keep your favourite pieces looking like new. We use only the highest quality materials and our experienced technicians take great care in ensuring a beautiful result. This service is available for all types of jewellery and rings, including engagement and wedding rings. Prices for this service start from £60 including VAT. Contact us today to learn more about our rhodium plating service or to schedule an appointment.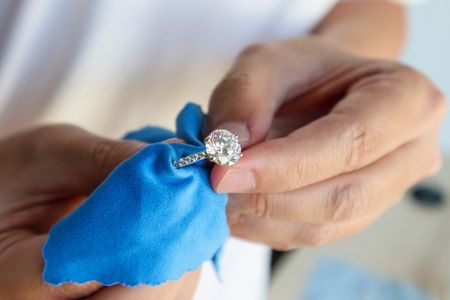 How long does our Ring Polishing and Ring Rhodium service take?
We we can have your ring looking brand new again withing the same day if you drop your jewellery to our store in the morning before 11am. If its after 11am, then we should be able to get your ring back to you by the eod of play that or or tomorrow morning.
Stop by today and see us for all your jewellery needs!
PLEASE NOTE: WE DO NOT OFFER THIS SERVICE ON WEEKENDS.