Ruby Engagement Rings
Hatton Garden
Ruby Engagement Rings Hatton Garden
Choosing an Ruby Engagement Ring in Hatton Garden
Fiery and fierce, ruby engagement rings have become a hugely popular alternative to a classic diamond ring. This vibrant red stone is associated with passion and success in love and can be paired with diamonds or stand-alone in a stunning solitaire setting. This lustrous stone has been popular for many years in necklaces, bracelets and other bespoke jewellery, and makes a wonderful choice for an engagement ring.
We know that an engagement ring is one of the most important purchases that you will ever make. That's why our experts are on hand to help you choose the right stone for your ruby engagement ring. Additionally, because we source our precious gems directly, this means that you aren't paying the sort of inflated price you might expect from a high street jeweller, because we cut out the middle man! Not only does this mean that you pay the best possible price for your ring, but it also means that we know the stones inside out. We can provide total insight into the beautiful rubies on offer, so you can pick just the right one.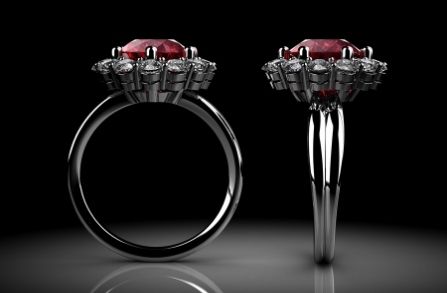 Why should you buy your emerald engagement ring from us?
We pride ourselves on amazing customer service, which is why we want to provide you with total peace of mind when you choose a ring from us. In fact, we offer a full money-back guarantee, with no questions asked, if you decide to return the ring within 30 days.
Unlike some other companies who source their stones directly, we are also set up in a way that means you can come along and try as many rings on as you like, and examine different stones and settings before you make your final choice. After all, an engagement ring is such a deeply personal item, and one that will last a lifetime - so we want to make sure that you are completely happy with your choice. Our try before you buy options and personalised customer service right from the start are what really sets us apart from other Hatton Garden jewellers.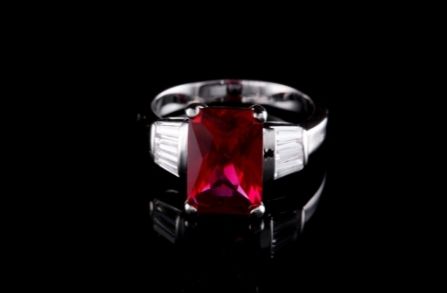 Finding the perfect Ruby Engagement Ring in Hatton Garden
We can help you to find exactly the right stone to help you make the ruby ring of your dreams. You might associate rubies with a bright red tone, but their colour can actually range from purple-pink to a deep reddish-brown hue. The clearest, most vibrant red stones are generally the most valuable stones - but depending on what you are looking for, we can help you find exactly the right ruby for an engagement ring. It's not just about the stone either; we are also on hand to help you understand the different settings available. Do you want a single ruby to be the star of the show? Or what about a stunning triple setting, with diamond shoulders?
Stunning, powerful Rubies for an amazing engagement ring
Gemstone hardness is measured using the Mohs scale. Rubies score 9 on this scale, meaning that they are one of the toughest stones out there; they are resistant to scratches and are the perfect choice for an engagement ring that is worn every day. It's normal for rubies to have some minor inclusions, which help to add character to the stone and distinguish it from artificially created gems.
So, if you've got your heart set on a ruby engagement ring, or even if you're still making up your mind and thinking about sapphire engagement rings or emerald engagement rings, why not pay us a visit to browse our stunning stones and talk to our experts about buying a ruby engagement ring in Hatton Garden?