White Gold Engagement
Rings In Hatton Garden
White Gold Engagement Rings Hatton Garden
Popular White Gold Engagement Rings
Looking for a White Gold Engagement Ring in Hatton Garden?
White gold is made from a mixture of gold and other metals such as palladium, nickel and zinc. These other metals, also known as alloys, help to make white gold much more resilient and durable than yellow gold. They also lend white gold its distinctive colour.
White gold was initially created to offer an alternative to platinum. They offer the same cool tone with a silver-white sheen – but white gold tends to be more affordable. White gold engagement rings are an extremely popular choice. Despite appearing similar, platinum and white gold rings are made of totally different metals.
It can be tricky to know if you are getting the best quality and value for money, at The Diamond Ring Company you will find cheap diamond rings with quality you can trust.
With over 33 years experience based in Hatton Garden, we pride ourselves in catering to our customer's needs, cheap does not mean poor quality, all of our diamond rings are GIA certified and are hand-crafted to the highest standard and finish.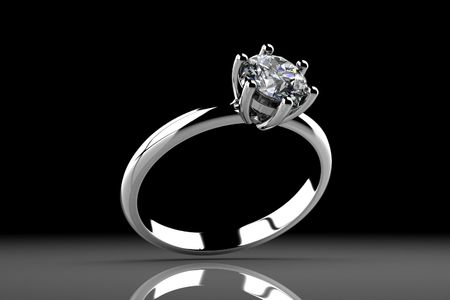 Why white gold is an excellent option for diamond rings
The cool, silver tones make white gold feel modern, and a good match for stunning, high-clarity diamond settings. White gold, particularly 18K white gold, is durable enough to be worn every day, making white gold engagement rings a hugely popular choice. Get in touch today to find out more about our stunning collection of white gold engagement rings.
What is the difference between 9k, 14k, 18k and 24k white gold?
On the face of it, the purest form of gold might seem like the optimum choice for jewellery. However, it is widely recognised that the purest forms of gold are very soft, which means that 24k gold rings can easily scratch and be damaged. It is also the most expensive type of gold. White gold made with a very high proportion of gold has the same disadvantages.
At the other end of the spectrum, 9K white gold contains a large proportion of alloys. This means that it is resilient but often tarnishes over time. 14K white gold contains fewer alloys, meaning that it is tough, but tarnishes less easily than 9K gold. However, most expert jewellers regard 18K as the optimum balance of purity and strength, meaning it is an ideal choice for setting diamonds to create a beautiful, long-lasting piece of jewellery.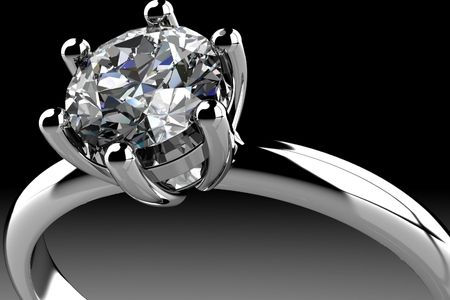 What does the karat rating of white gold  engagement ring mean?
Each piece of white gold jewellery has a karat rating, which is usually represented by the letter K. Some of the most common that you might come across are 9k, 14k, 18k and 24k. This represents the amount of gold that the piece contains. 24K is the highest purity which means that the engagement ring is made up of 99.9% pure gold. Because of the alloys contained in white gold, 24k white gold does not really exist. Even in yellow gold jewellery, alloys are commonly added to help strengthen the metal, so 24k jewellery is comparatively uncommon.
Why Choose us for White Gold Engagement Ring?
We know that shopping in Hatton Garden can be overwhelming. When choosing your preferred metal, its can feel like a bit of a mind-field. Especially as its hard to know or see the difference between white metals. Here at The Diamond Ring Company, we offer a life time service so if your white gold experiences a little wear and tear, we will happily, dip it and polish it so that it looks fresh out of the box. This service is free and will be whilst we are in Hatton Garden.
Why you should buy your Cheap Engagement Ring from us when in Hatton Garden
Try before you buy
Try before you buy! Book an appointment at our showroom in Hatton Garden, we have plenty of styles for you to try and will be on hand to offer you the best advice.
We offer a 30 day Money Back guarantee and a safety net for you just in case your partner does not like the ring you propose with.
Our customer is our priority, we are here to help and will give you friendly, transparent service to help you get the best diamond ring for your money. We also have Lab grown diamonds rings, diamond ruby engagement rings and diamond sapphire engagement rings on offer.
Money-back guarantee
We understand that buying an engagement ring is a life-changing decision. For those worried about any aspect of their purchase, we offer a no quibble, full money-back guarantee if you return the ring within 30 days.
Personal service
We offer an attentive and personal service that caters to the needs of our customers. In fact, our focus on delivering a personal service from the moment you request a design to the final delivery of your engagement ring has led to an 'excellent' five-star rating on Trustpilot from our many satisfied customers.
To learn more about our services, get in touch with our team of experts today.