To hallmark or not to hallmark, that is the question
Before buying your diamond engagement ring or matching wedding rings, it is essential you learn the basics of Hallmark's so you can check the piece of jewellery you are buying is what it say's on the tin. The following information will prep you with all the info you need to become experts in the field.
Does my item need hallmarking?
It is law within the UK that every item of precious metal sold such as Platinum, Gold, Silver is stamped labelling the item with the type of metal it is. Platinum pieces which weigh less than 0.5 grams, 18ct Gold and Palladium pieces weighing less than 1.0 gram and Silver pieces weighing less than 7.78 grams are except from hallmark.
The law of hallmark was instituted in the early 1300's by King Edward I. The Goldsmiths Assay Office (http://www.theassayoffice.co.uk) was consequently founded and has several offices around the country where jewellers can send their jewellery items to be verified. Centre's in Edinburgh, London and Sheffield were created together with The Birmingham Assay Office which is currently the largest hallmark centre in the world.
Where can I find my hallmark?
The hallmark is normally stamped inside an engagement or wedding ring, with pendants by the bail and with chains and bracelets they are usually found by the clasp.
The hallmark consists of 3 compulsory marks together with a 4th often-optional marking.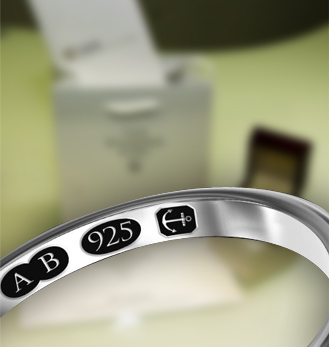 The first symbol will display the Sponsor or Maker/Manufacturers mark, which are generally the initials of the company, with a minimum of 2 letters. i.e. our mark is DRC.
The second symbol identifies the Standard Mark, i.e. what precious metal this item is. The various numbers correspond to the various precious metals as shown above, i.e. Platinum 950.
The third symbol indicates what Assay Office the item was hallmarked in, i.e. London.
The 4th and optional mark identifies the year it was hallmarked. The mark was compulsory up until 1998 from when it was changed to be optional, i.e. 2013 is the letter 'O'.
At present, the UK is the only country worldwide to have instituted jewellery to be hallmarked, which makes it a minefield when buying jewellery abroad so be careful.
If you have indeed bought an item of jewellery abroad or your item has not been hallmarked yet, feel free to contact us and we can test your piece of jewellery and confirm the details. We can also arrange for the piece to be hallmarked should you wish.