You might fancy… A drop diamond pendant
As before with the earrings, I will work on the assumption that you already have a classic single diamond pendant, like the ones here. And now it's time to go to the next step. Or, you may want to go straight for a multi diamond drop necklace!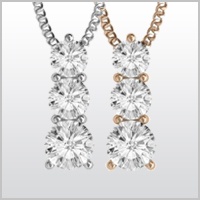 Either way, I'll remind you why this is a great staple and I'll take you on a quick tour of styles.
Nothing beats the timeless trilogy drop style. How nice are the Adora and Geneva Rounds for example?!
Whether you like the traditional claw setting or bezel setting, these are a great choice. The style also pretty much suits anyone. From a petite to a larger lady.
They clearly say "I am a piece of fine jewellery. Yes, we are diamonds"…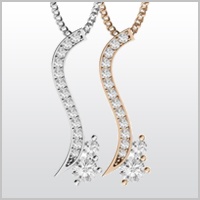 If you want something with a bit more of a twist (literally), then drops that come in curved or more angular and linear shapes, with main diamonds and small accents, may be the thing for you.
Again,if the design is quite clean and simple like with the Suzette or Helaine Rounds, then you'll get a lot of wear out of them.
The usual 'from day to night' applies. And, treating yourself to a diamond drop won't cost you two months' salary!
The Diamond Ring Company has a small but perfect offering of these, so check them out and see what suits you.
We welcome visits to our showroom in London so you can be sure that your engagement ring, diamond pendant, or other jewellery will fit perfectly.