Surprise or joint project…. how would you like to receive your diamond engagement ring?
There is the traditional and supposedly more romantic end of the engagement ring receiving spectrum or there is the more modern approach, probably most typical of today's fiancè to be. But then there are of course a few variations in between. The various scenarios could go something like this:
The super romantic moment where you as the man, have got every detail correct, this includes a surprise weekend break to a very special spot for the two of you, the well planned evening or sunset setting, the getting down on one knee and proposing, ring box in hand, or perhaps being given the ring with the lavish dessert at the end of the gorgeous dinner… and (!) you found a way of getting your lady's ring size, so to top it all off, the ring fits perfectly… Oh, and it is just the kind of diamond engagement ring you, 'Miss' would have chosen yourself. Good man.
The moment where you both decide that you do indeed want to get married and so now it's time to start the big project of 'what ring will it be?'. So, knowing your financial situation, having budgeted for the wedding and the honeymoon, you have x amount that you can spend. He researches diamonds to the point of becoming an expert where the good old 'four C's' are concerned, you look at ring styles and metal colours that work best on your hand and against your skin colour.
You spend multiple weekends thereafter doing the rounds in both Bond Street and Hatton Garden ( should you be living in London for example) and then try to find the best prices for the equivalent items online. You eventually find just the right site ( do visit The Diamond Ring Company), you make your purchase and yippee, your very special and most personal project yet completed. And within budget!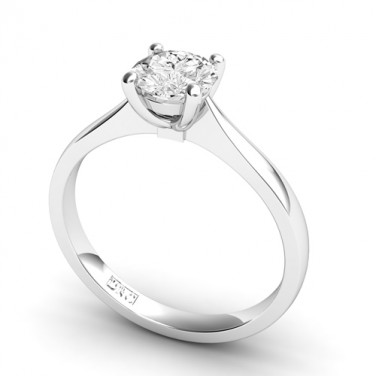 Then there is a sort of mix of the two. Perhaps you the man don't have the interest or understanding to be able to get all the details of the ring correct, or you know that you have a very headstrong lady who would actually much rather do the choosing herself and you want to respect that for something so important. Here's how things may turn out- You create a very special occasion, at home or abroad, even in your house. You really make an effort to make the moment one that will be remembered and since you already pretty much know she will say yes, you do get a ring. Oh oh, no, don't worry, not 'the ring' but a ring, a place holder quite literally. Some jewellers specifically stock place holders for when your ring isn't quite ready!
When this scenario does occur, you are usually presented with silver, not platinum and áusually there aren't diamonds just yet. It doesn't matter all that much at this stage whether the size is exactly right but a bit of effort to try to come as close as possible wouldn't hurt. The eve starts and ends and there she is beaming and with ring on finger. OK, so it's the middle finger, nevermind, close enough. And so ditto as in scenario two above, the conversation that follows budgets, research and such to find 'the ring'.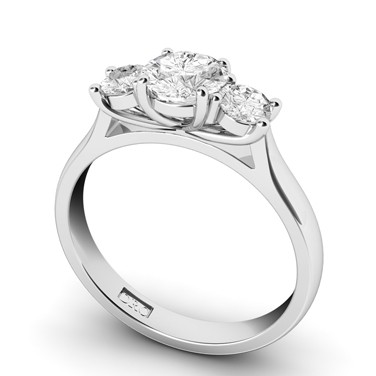 Many more scenarios which are part one style and part the other do of course exist. Every couple, and certainly girl, will want to think that the moment that she decided upon and received her engagement ring was unique. So it may well be. I said 'supposedly' most romantic when mentioning the traditional way at the beginning because this whole topic begs the question 'what is it to be romantic' where such a moment in life is concerned? Is a romantic man one who does what is traditional or is he one who knows his future life partner so well that he ensures that the engagement ring purchase will be done in just the way she would want? If you're online now, doing that all important research, let me know what you think…