June Highlight… Meet the Alessias
Well, the sun has started showing its face in the last few weeks so let me introduce you to some things that may just brighten up yours… Meet the Alessias! Our classic and gorgeously simple diamond stud earrings. Every girl's must have item.
In this case, it is the simple detailing that sets these studs apart from others. Look at the claw setting that is used. Just as the image shows, they look strong but smooth. That great wide V that joins the claws really makes these look like a 'nice' pair of diamond studs.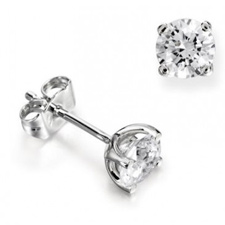 In addition, as you can see, you can have them with either the traditional brilliant (round) diamonds or the sharper, slightly more modern princess (square) cuts. Hey, and why not have a pair of each I say (yes, yes, I would but I do!).
We love them because they are both so basic and so versatile that there is nothing not to like about them. Want a simple look, just throws these on. Want a dressed up look, keep these on and add an elegant or fancy necklace which itself doesn't need competition from the ears….
So, not much more to add… I had to highlight these now, just in case there are actually any ladies out there who don't have their diamond staples yet! As I've said before, with the range of diamonds the Diamond Ring Company holds, there is a size that suits everyone's budget.