Do you know… Which hallmarks you really need to know today?
Having done the history of Hallmarks in a previous post, let me bring you up to date this week…
In the modern world (I refer to Europe largely), the convention that dictates what hallmarking is, came into being in 1973. A core group of European nations signed the Vienna Convention on the Control of Fineness and the Hallmarking of Precious Metal Objects. Pieces which are assayed and found to be of the correct grade of metal, by the country's official office (e.g. the London Assay office as introduced in the Why Hallmarks exist post), receive a mark known as the Common Control Mark (CCM).
This is a multi-tiered motif as follows:
for gold- the balance scales superimposed on two intersecting circles
for platinum – as above, scales superimposed on a diamond shape
for silver – as above, scales on the letter M A revision to the convention in 1999 in the UK meant that it no longer became compulsory to add a date stamp. The dating system itself requires further explanation as there were many different ones which the 1973 convention consolidated for the four assay offices.
Hallmark Standardisation
As it stands today, the CMM does not appear to be compulsory but the following are what you must find on your fine jewellery and silver pieces, in the UK, to know that your articles are 'the real thing'.
the sponsor or maker's mark ( the mark of the person or company sending the article in for assaying)
the assay office mark
the standard of fineness eg. the 925 stamp in the case of silver, 585 or 14kt in the case of fourteen carat gold etc.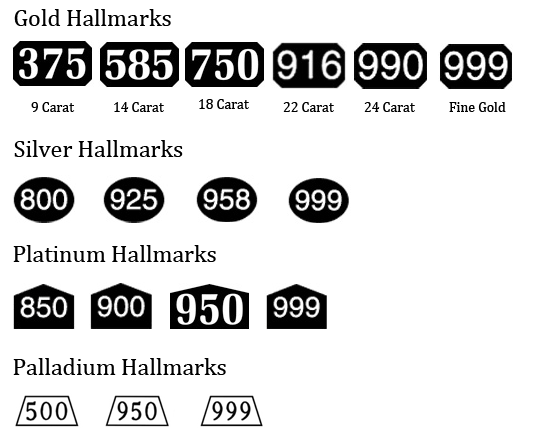 This top one of these two examples below illustrates the above three required stamps.

The lower one also shows the lion passant, which indicates Stirling silver, the 'a' which is the date stamp for the year 2000 and then the Millenium stamp which was only allowed on pieces made in 1999 and 2000.
In practical terms this means that any jewellery produced in the UK will need to sent but its maker to the nearest assay office to be hallmarked. So, as with many things in life, even jewellery needs an official stamp!