Rose Gold Diamond Engagement
Rings In Hatton Garden
Rose Gold Engagement Rings Hatton Garden
Popular Rose Gold Engagent Rings
Shopping for a Rose Gold Engagement Ring in Hatton Garden?
Rose gold is a stunning and on-trend metal that looks effortlessly sophisticated. More and more people are now choosing this type of gold for diamond rings and engagement rings. If you're getting ready to propose, a rose gold engagement ring is a great choice - durable, contemporary, and it stands out from the alternatives. Want to find out more about this metal? We're specialists in rose gold engagement rings who can help you find the right one.
What is rose gold?
Rose gold is an alloy of yellow gold and copper. The copper added to the yellow gold gives it the rosy pink hue that so many people admire. The amount of copper and gold in rose gold can vary. Different varieties suit different purposes so it's important to know what the ideal karat is for the jewellery you want.
Is a Rose Gold engagement ring a good choice?
A rose gold diamond ring is a durable choice – these rings are stronger than yellow or white gold, meaning they're a good option for valuable fine jewellery like diamond rings. Another benefit of this type of gold is that it's affordable. In many cases, it's more affordable than other varieties. Finally, it has a romantic vintage look that's a great pairing with a sparkling stone.
What is the difference between 9k, 14k, 18k, and 24k rose gold?
The difference between karats is how much yellow gold is mixed into the alloy. 9k means there's 37.5%, 14k is 58.5% gold, 18k means 75% of the total alloy is yellow gold, and 24k means 100% gold, meaning no copper is added at all. 24K gold is too soft to be used for jewellery on its own, but 18k rose gold is just the right level of hardness for setting diamonds and creating durable engagement rings that can be worn every day. 14k and 9k rose gold is even more resilient, meaning it's suitable for jewellery that's ia also worn for  every day.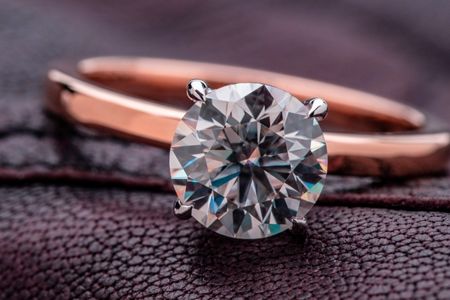 The difference between rose gold and yellow gold
The difference between rose gold and yellow gold is that rose gold is an alloy that mixes copper with yellow gold. Yellow gold is also an alloy but typically copper, zinc, and sterling silver are added to pure gold to create it. This accounts for the difference in colour and durability. Just as different varieties of rose gold have differing characteristics and are suited to different uses, the same applies to yellow gold.
Why you should buy your Rose Gold Engagement Ring from us when in Hatton Garden
Try before you buy
Try before you buy! Book an appointment at our showroom in Hatton Garden, we have plenty of styles for you to try and will be on hand to offer you the best advice.
We offer a 30 day Money Back guarantee and a safety net for you just in case your partner does not like the ring you propose with.
Our customer is our priority, we are here to help and will give you friendly, transparent service to help you get the best diamond ring for your money. We also have Lab grown diamonds rings, diamond ruby engagement rings and diamond sapphire engagement rings on offer.
Money-back guarantee
We understand that buying an engagement ring is a life-changing decision. For those worried about any aspect of their purchase, we offer a no quibble, full money-back guarantee if you return the ring within 30 days.
Personal service
We offer an attentive and personal service that caters to the needs of our customers. In fact, our focus on delivering a personal service from the moment you request a design to the final delivery of your engagement ring has led to an 'excellent' five-star rating on Trustpilot from our many satisfied customers.
To learn more about our services, get in touch with our team of experts today.