Elizabeth Taylor's 3rd Love to be Auctioned
She once boasted her 3 loves included Richard Burton and Mike Todd and now Elizabeth Taylor's 3rd love – her jewellery is being auctioned at Christie's in New York in December after a 3 month Tour around the World. The tour began in Moscow in September, and has since travelled to London, Dubai, Geneva, Paris, Hong Kong, Los Angeles with the tour concluding in New York.
The item expected to sell for the most is the first gift Richard Burton bought her, a 33.19ct Asscher-cut Krupp Diamond, D VS1 Quality set in a Platinum Ring with Tapered Baguettes. The item was bought for 305,000 in 1968 and is expected to be sold at auction for 2.2million.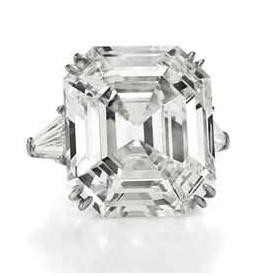 Another notable item going under the hammer is the 17th-Century Taj Mahal Diamond Pendant bought in 1972 as a 40th birthday present for Elizabeth.
The story behind the pendant is one of the most famous love stories of all time. It originally belonged to Emperor Shah Jahangir, who had the diamond inscribed with his wife's name Nur Jahan. His son Shah Jahan inherited the stone, and built the Taj Mahal in memory of his wife Mumtaz, who died in childbirth.
The pendant is estimated to be sold for $500,000 (320,000).
The late actress's entire collection is estimated to fetch in excess of $30million (18.75million). A portion of the proceeds from the auction will be donated to The Elizabeth Taylor Aids Foundation.
We have a vast selection of Asscher Cut polished diamonds can be found in our diamond database.